Company O wants a specialty valve that's small-lot but low cost
Besides the standard products listed on this website, at FLOM we also do a lot of custom design and manufacture for the specialty needs of our customers. Since so many LC systems require special functionality and specifications, we keep our creativity sharp and our expertise up to date for a nimble response to these requests.
The Challenge
Company O required an automatic valve to fit into a UHPLC autosampler they were developing. Enquiries to other suppliers showed that current offerings were too high in price and the suppliers were unwilling to modify the design to fit the specs of the autosampler. Because of the high pressures under which their autosampler would run, the valves they saw couldn't do the job – valve seal wear would be too rapid, valve lifecycles would be too short.
The Customer's Plea
"Can you show us a low-cost specialty valve with the high operating accuracy and long wear life that you need for UHPLC?"
FLOM's Response
We succeeded in developing a valve with vastly improved wear characteristics by using a new material for the seal. Right from the start we made sure that everything about the design fit the customer's specs, and so we developed a solution that involved zero changes to their design.
Customer comment on the finished product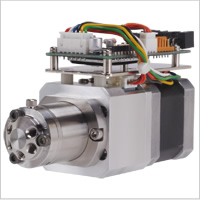 As promised, we delivered a specialty valve customized in full accordance with their specs. The customer gratefully commented, "It was just supplying the valve, but the fact that you bent over backwards to make sure we made no changes to our design is what really helped. We'll be asking you to do the same for some of our other components."
Total Delivery Time
| | |
| --- | --- |
| From initial discussion to concept/proposal: | 2 weeks |
| From concept/proposal to working prototypes: | 6 weeks |
| From prototypes to final delivery: | 6 weeks |
| Total: | 14 weeks |
Customers have asked FLOM to make them new designs for a variety of reasons: compactness, low-cost, etc. More examples of our work can be found below.