Company H was looking to match the performance but beat the cost on a valve from a large foreign firm
Besides the standard products listed on this website, at FLOM we also do a lot of custom design and manufacture for the specialty needs of our customers. We have some 300 valves that we use as a foundation for our OEM work to meet the various needs of our customers.
The Challenge
Company H purchased a valve from a large foreign manufacturer. No problems with quality or performance, but when you factor in consummables the price was high. The cost run-up was too high, so they started looking for a substitute.
The Customer's Plea
"Can you match the quality and performance of this valve but offer it at a more reasonable price?"
FLOM's Response
Based on Company H's requested performance parameters we began conducting durability tests on a prototype. After many tweaks and improvements we managed to design a valve that not only cost less but actually improved on the quality of the other valve!
Customer comment on the finished product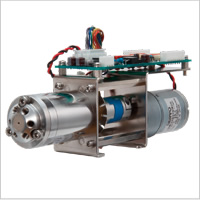 Our durability tests were deep and thorough enough to show that we matched all the performance parameters of the competitor's product. Our customer conducted their own tests on our prototype and validated that our prototype actually exceeded the quality and durability of the competitor's component. This plus the cost reductions resulted in a very satisfactory end to the story.
Total Delivery Time
| | |
| --- | --- |
| From initial discussion to concept/proposal: | 4 weeks |
| From concept/proposal to working prototypes: | 8 weeks |
| From prototypes to final delivery: | 12 weeks |
| Total: | 24 weeks |
Customers have asked FLOM to make them new designs for a variety of reasons: compactness, low-cost, etc. More examples of our work can be found below.