Company M wanted us to build them a degassing unit with a very small but stable vacuum range
Besides the standard products listed on this website, at FLOM we also do a lot of custom design and manufacture for the specialty needs of our customers. We have some 300 valves that we use as a foundation for our OEM work to meet the various needs of our customers.
The Challenge
Company M had finished building an LC system prototype, only to find that the vacuum range was too wide on the degassing unit they had initially selected. The oxygen concentration in the solvent fluctuated, causing misreadings on the RI detector. Unable to achieve their performance goals, device development was running behind schedule.
The Customer's Plea
"Does FLOM have a degassing unit with stable output over a very narrow vacuum range?"
FLOM's Response
FLOM sent Company M some degassing unit units to test in their system.
Customer comment on the finished product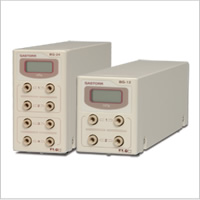 The FLOM degassing unit successfully passed Company M's test for stable oxygen concentration, and were spec'd into their system. Not only that, since we had also supplied some of our pulsatile pumps for them to test, they found these pumps so good that they too were spec'd in!
Total Delivery Time
| | |
| --- | --- |
| From initial discussion to concept/proposal: | 1 week |
| To final delivery: | 4 week |
| Total: | 5 week |
Customers have asked FLOM to make them new designs for a variety of reasons: compactness, low-cost, etc. More examples of our work can be found below.