Company K needs a solvent pump that's compact yet high pressure with an inert fluid path
Besides the standard products listed on this website, at FLOM we also do a lot of custom design and manufacture for the specialty needs of our customers. Since so many LC systems require special functionality and specifications, we keep our creativity sharp and our expertise up to date for a nimble response to these requests.
The Challenge
Company K needs a high but stable pressure in a solvent pump with an inert fluid path, which rules out the use of metal. It also needs to be very compact to fit into their current systems.
The Customer's Plea
"Can you make us a solvent pump with a pressure rating of 15MPa with low pulsing (low pressure variation) in a compact design with an inert fluid path?"
FLOM's Response
We based our design on our existing general-purpose KP-22-13 pump with PEEK fluid path. The KP-22-13 is already rated at 20Mpa, so at 15MPa we've already covered the need for low variation. We redesigned the unit by shrinking the chassis down to the point where it, and the power supply, could easily fit into the space left in the system being designed by the customer.
The Finished Product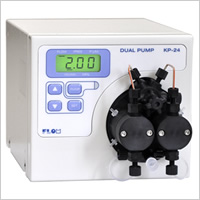 The picture shows a sample of the kind of pump we used as base. From here we shrank the form factor and put in an inert fluid path, and delivered to the satisfied customer.
Total Delivery Time
| | |
| --- | --- |
| Initial discussion to concept/proposal: | 4 weeks |
| Concept/proposal to working prototypes: | 8 weeks |
| Prototypes to final delivery: | 6 weeks |
| Total: | 18 weeks |
Customers have asked FLOM to make them new designs for a variety of reasons: compactness, low-cost, etc. More examples of our work can be found below.