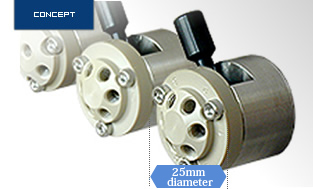 We at FLOM are aiming at becoming the frontrunner in HPLC and UHPLC components by supplying the essential valves, degassing units, and pumps used in all high-speed liquid chromatography systems. Our lineup starts with the components shown on this website, but we also offer full custom services for the design, development and manufacture of these components, modifying our basic designs or even starting from scratch to fit our customers' specs.
All FLOM products feature high performance, compact and lightweight design, and low cost. We proudly continue the Made-in-Japan business ethic of design originality, high technical expertise, and nimble response to customer needs. Since our founding in 1990 we have supplied a variety of components to many major analytical device makers. As a result of our persistent efforts to supply the very best high precision and compactness, for UHPLC applications, and for small-lot, fast delivery, our high volume sales have even propelled us into the front rank of Japanese valve manufacturers.
A tour through this website will show the breath of components and applications provided by FLOM. If you have any particular problems with your parts or systems, do not hesitate to contact us.
Whether you're a LC-related maker dissatisfied with your current suppliers, or looking for the reliability of Japanese components, or a researcher trying to push the limits of your systems, FLOM stands ready to help you solve your hardest LC challenges.


FLOM is always pushing the envelope on the next generation of LC components, pursuing higher performance, devising more compact/lightweight designs, and squeezing out every last bit of savings to keep prices as low as possible. We're particularly good at helping customers who need fast deliveries on small lot runs - even with the latest in UHPLC designs, our customers come to us for the most cutting-edge yet dependable designs.

Highly solvent resistant fluorocarbon polymer used thruout the wetted path of pump (equipped with pressure sensor).
Cascading design (solvent pumped in series) drastically reduces air bubble problems.
Connectable to all FLOM pumps, allows easy setup to control pumping and gradients of 2 solvents.
High pressure, high durability super compact auto valves with integrated control circuit board and driver.
Tri-Fitt Series

(No. 10-32 UNF, for OD 1/16" tubing)
. Can be used with high pressure tubing over 100MPa
. Reduces tube twisting
. Long life with replaceable PEEK ferrules

| | |
| --- | --- |
| 2015/04/30 | Added new product info. |
| 2014/01/31 | Added new product info. |
| 2012/10/31 | Redesign of home page. |
| 2012/11/30 | Update on new products. |