Company A was having problems with a competitor's OEM degassing unit; they needed to fix the problem, were looking for some new ideas.
Besides the standard products listed on this website, at FLOM we also do a lot of custom design and manufacture for the specialty needs of our customers. If the current components you're using are leading to spec changes and manufacturing headaches, come talk to us directly!
The Challenge
Company A bought some OEM degassing units from a certain supplier, but because of problems with a particular crucial solvent, they returned the units and asked for a solution. But for some time they got no clear answers back. With their own customer now breathing down their necks about late shipments, they demanded a faster response. Some weeks later they finally got an answer – only that the solvent in question was not included in the warranty, and they'd have to pay for a special upgrade!
The Customer's Plea
"We can barely get the supplier to answer. Do you guys have a degassing unit that can handle this solvent?"
FLOM's Response
FLOM conducted tests on our own degassing units using the solvent. Along with the experimental data generated proving that our products could handle it without problems, we devised a special tubing connection scheme that improved the effectiveness of the whole system.
Customer comment on the finished product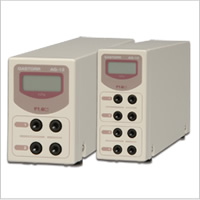 Thanks to FLOM's proposal, the customer was able to halve the number of vacuum chambers, reducing costs and saving valuable space with our compact unit specifically designed for OEM systems. "Now we can provide better service to our customer. Thanks for the rapid and innovative response!"
Total Delivery Time
| | |
| --- | --- |
| From initial discussion to concept/proposal: | 3 weeks |
| From concept/proposal to working prototypes: | 8 weeks |
| From prototypes to final delivery: | 12 weeks |
| Total: | 23 weeks |
Customers have asked FLOM to make them new designs for a variety of reasons: compactness, low-cost, etc. More examples of our work can be found below.