Company M asks for: a degassing system for a very small amount of solvent
Besides the standard products listed on this website, at FLOM we also do a lot of custom design and manufacture for the specialty needs of our customers. If you don't see what you're looking for here, contact us and let us know exactly what you want.
The Challenge
Company M was looking for an LC component that could handle an extremely low volume of solvent.
The vacuum chamber of the degassing unit needed to be exceptionally small but they couldn't find anything on the market that would match their specs.
The Customer's Plea
They came to FLOM and asked, "What's the minimum vacuum chamber you could put on a degassing unit?"
FLOM's Response
We proposed using a new type of degassing membrane (Teflon AF? from Dupont) with a degassing performance roughly 20 times better than conventional membranes, to ensure proper degassing in a vacuum chamber reduced down to 50μl.
Customer comment on the finished product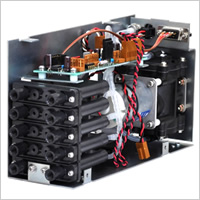 As promised, we delivered a high performance degassing unit with an extremely small vacuum chamber.
Company M expressed their satisfaction in this comment: "What a great help you've been! We couldn't find this anywhere. Thanks for the rapid response to our dilemma."
Total Delivery Time
| | |
| --- | --- |
| Initial discussion to concept/proposal: | 4 weeks |
| Concept/proposal to working prototypes: | 6 weeks |
| Prototypes to final delivery: | 4 weeks |
| Total: | 14 weeks |
Customers have asked FLOM to make them new designs for a variety of reasons: compactness, low-cost, etc. More examples of our work can be found below.